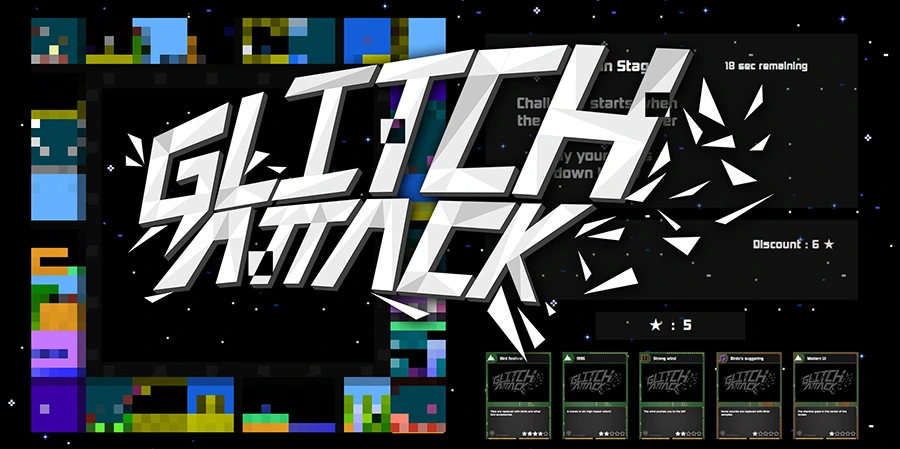 Glitch Attack
Glitch Attack is an emulator metagame in which videogame challenges must be completed while the game gets modded.
The metagame uses special PNG files called DataCards, which encodes scripts and savestates within the image itself.
This software is a standalone compilation of various mods for Bizhawk Emulator and RTCV. Its implementation is completely generic and isn't locked down to any game or system.
Health Warning
This game features real videogame corruptions and certain card can trigger flashy visuals and loud noises. If you are prone to seizure, react strongly to flashy visuals or loud noises, do not play this game.
How to play video (Featuring a community-made board pack)
Direct Download
You can download the game as a standalone portable Zip, DRM-free.
Download size: 200mb.
Type: Windows Game.
Prereqs Downloader:
Download if needed
System Requirements: Windows 7 or newer, at least a 2nd gen Core i3 processor or better.
Supported controls: Keyboard, XInput Game controller, Mouse, Touchscreen.
DataCard Packs
This software is a standalone Board Game Engine and needs board packs to function.
Community-made packs of board and card assets are available at optional.fun
All the assets available at optional.fun are DataCard PNGs. You will have to provide the games yourself.
Development
The development of this game is done by Ircluzar and NullShock78.
A special thanks Tenta, MaxMinerva and Minty Cups for their massive contributions to asset development. Their works are available in the form of Community-made DataCard Packs over at optional.fun. Thanks everyone who helped testing the game.
If you wish to discuss about the game or share your experiences, feel free to join our Discord server. Make sure you read the rules :)